Whether you have marble, tile or hardwood floors, you may have had difficulties cleaning them before due to an uncertainty or fear of incurring any damage to the flooring material. However, now with the assistance of Al Amal Maintenance marble polishing, you can be confident that your precious flooring will be cleaned in the most precise and safe method possible, without the risk of any of damage. Al Amal Maintenance floor cleaning specialists have a cherished and respected history in the field of cleaning and maintaining flooring of all types, with an expertise in both natural and synthetic flooring.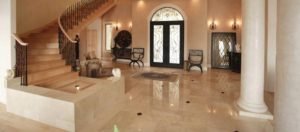 Marble floors are very elegant and bring a natural, bright, and modern feel to many homes. Marble floors are an expensive investment and can become scratched, dull and dirty requiring regular cleaning, polishing, sealing, and maintenance services to keep them in good condition reducing the need for expensive restoration.
Marble floor problems
Marble floors, without the correct level of cleaning and maintenance, will deteriorate over time, losing their original polished or high polished finish becoming lifeless, dull, and dirty. Marble floor surfaces dull in high traffic areas like kitchens due to incorrect cleaning products damaging the surface, continuous foot traffic grinding hard to see dirt and grit into the floor creating microscopic scratches which over time build up and reduce the floor's natural reflective properties.
Food and drink stains, etch marks, watermarks, limescale, dull spots, and dirty grout lines contribute to the Marbles deterioration and soiled appearance.
Cleaning company

Unqualified and poorly trained cleaners/cleaning companies are often the cause of damage to Marble floors as they don't have the experience, correct products, and equipment to maintain and protect Marble floors.
Using high alkaline, acidic or bleach-containing cleaning products will damage the floor surface bringing on early floor restoration, using incorrect rotary machine pads can scratch the floor surface causing more restoration work.
Fortunately, we have everything needed to take care of Marble floors putting right these problems, keeping your floor looking great.
Marble floor refurbishment
Marble floor refurbishment and maintenance – This process is the most common and usually required when the floor surface is dull and dirty but generally in a good condition with only light scratches.
Marble Floor Restoration – This process is usually required when the floor is in very poor condition and needs a lot of work repairing damage, cracks and removing deep scratches and gouges.
Our floor cleaning team and tiler will repair the damage, resin repair holes, and cracks, remove lippage, diamond grind and diamond hone the surface to remove deep scratches and gouges.
Once the floor has been repaired we diamond polish the floor with various grades of diamonds to provide a polish finish, if a high polished finish is required we use our chemical process of powder polishing the floor to provide a high-gloss polished finish before sealing with a natural stone floor sealer on completion.
Marble floor cleaning sealing process
How to clean and restore Marble floors?
Marble floor cleaning and restoration depends on the type, finish, and condition of the floor.  Our floor cleaner will deep clean the floor tiles and grout lines, diamond hone out stains, etch marks and dull spots, resin repair cracks and holes to restore the floor surface.
Once the repairs have been carried out we diamond hone and diamond skim the floor to remove light scratches and ingrained dirt to produce a clean polished finish. If a high gloss finish is required we either use finer grades of diamonds and/or a chemical process called powder polishing that reacts with the Calcite in the Marble to produce that high gloss mirror finish.
Once the floor has been restored we seal the Marble floor with a natural stone floor sealer to help protect the floor on completion.
Marble floor maintenance
Let us worry about your floor!
Once the floor has been cleaned and restored, we will send you a copy of our 'Natural Stone Floor Maintenance Guide and add you to our floor maintenance list, we will then contact annually and remind you when your floor requires maintenance.
Maintenance frequency depends on the floor type, finish and the amount of use the floor receives. We recommend Marble floors are cleaned and maintained every 6 to 12 months and this is subject to the floor finish, location, and the amount of use the floor receives.
Floor survey
We provide FREE surveys to find out the size, type and condition of your floor.
This information allows us to provide a free quote including our cleaning, polishing and maintenance recommendations. For speed, you can send us photos via email, text or WhatsApp +971 55 9641288 which allows us to give you a budget quote before carrying out a survey.
Good photos would include a photo from the entrance into the room/s containing the floor so we can estimate the size of the floor and what's in the room, a close-up of two tiles together so we can see the type and condition of the tile, and any other photos you feel will help us determine the condition of the floor.
Diamond grinding and diamond polishing
Diamond grinding process of using a floor rotary machine containing course grade diamonds to remove deep gouges and scratches.
Diamond honing A process of using a floor rotary machine with medium grade diamonds to produce a smooth flat finish removing grinding marks, light scratches and etch marks.
Diamond polishing A process of using a floor rotary machine with various grades of polishing diamonds to produce a highly polished finish.
Diamond grinding and diamond polishing
Powder polishing or Crystallization is a chemical reaction with the calcium carbonate surface of the stone that produces a high gloss mirror finish and the final process after diamond polishing.
Lippage removal Lippage is the removal of stone edges that are higher than the adjacent edges giving the floor surface an uneven appearance.
We use special coarse grade diamonds to flatten the raised stone edges to provide an even finish.
Stone floor sealer Most natural stone floor sealers are below the surface sealers called impregnating sealers that do not alter the original finish. They are highly recommended for newly installed floors to help protect the floor at installation stage and to prevent grout bleed.
Impregnating seals are designed to be absorbed by the stone to fill up its pores reducing its absorbency rate which helps prevent possible accidental spills resulting in stains from being absorbed by the stone.
Grout Cleaning
We manually clean every grout line with a grout brush, this attention to detail provides us with the best grout cleaning results. We also employ a stone floor tiler to repair and replace stone floor tiles.
Stain removal and crack repairs
Stain removal We use various stain removing products, diamond discs and poultice methods to remove dull spots, etch marks, food and drink stains.
Scratch removal We diamond grind and hone out deep and light scratches.
Crack repairs We repair cracks by filling with an epoxy resin before honing and polishing the surface to help match the existing stone finish.
Pits and holes We manually clean out pits and holes, resin fill holes before honing and polishing to a smooth finish.
Tags: Marble Maintenance Dubai, Marble Crystallisation Dubai, Marble Restoration Dubai, Marble Cleaning & Polishing in Dubai, Floor Cleaning Polishing in Dubai, Tiles Polishing Service in Dubai, Tiles Cleaning & Polishing Service in Dubai, Professional Marble Polishing in Dubai